Planning the Low-Budget Film
Now in a completely revised 2nd Edition.
Used by Film Schools across the U.S.
Includes a sample feature budget.
Includes Script Lining, Script Breakdown, Scheduling, and Budgeting.
This book is a must read for anyone who is even thinking of producing a film!  ~ Mel Brooks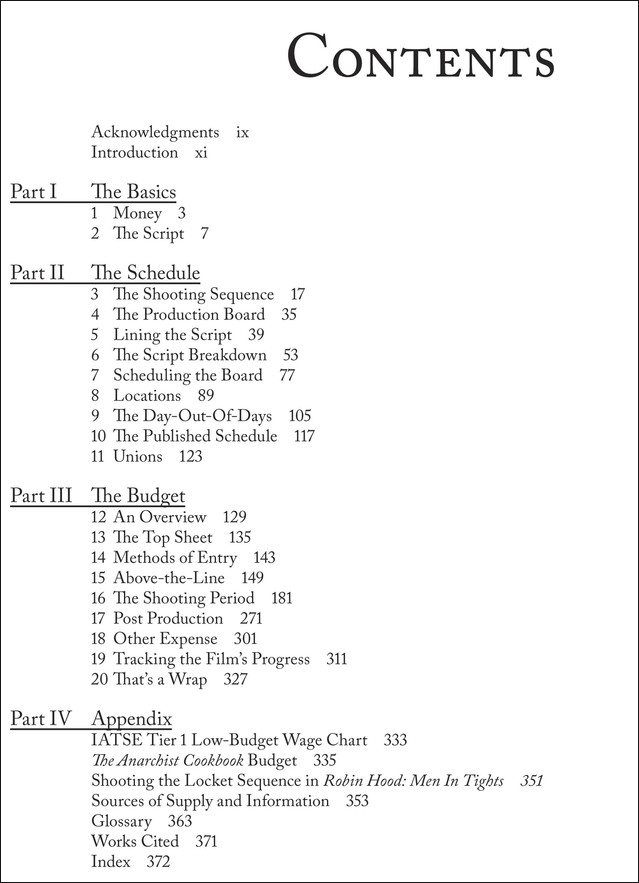 Reviews
Planning The Low Budget Film by producer and production manager Robert Latham Brown draws upon the author's 30 years of experience to lay out the principles of solid film planning with strictly limited resources. Chapters discuss how to get into the low-budget film business, how to apply and adhere to a schedule, methods of calculating and keeping track of the budget. Of especial value is the meticulous step-by-step instructions for anyone who is brand new to the confusing world of financial recordkeeping. Written in down-to-earth, no-nonsense format, Planning The Low Budget Film is enthusiastically recommended for aspiring and professional film producers of all experience levels.
[Robert Latham] Brown...brings 30 years of experience in the motion-picture business to an exceptionally detailed manual on making "low-budget" films (so-called because only in Hollywood would $5 million be so described). Among the topics minutely covered are readying the raw script for shooting; the actual process of shooting, including scheduling the sequence of scenes and locations; and, of course, budgeting. Useful appendixes include an extensively detailed budget of an actual movie, and practical information is provided for completion bond companies, state film commissions, and film guilds and unions. Illustrations complement the text throughout. Recommended for cinema schools and large cinema collections.
An essential resource for serious low-budget moviemakers. Brown's down-and-dirty look at what it takes to bring a script to the screen covers all the detail, practical considerations and potholes that have the potential to derail a project — from interpreting scripts, determining budgets and identifying realistic locations to developing shooting schedules, production tracking techniques and post planning.  In his work as a production manager on over 40 films of varying budgets, Brown has seen it all and shares his expertise and experiences in a most readable and enjoyable way.
If you are making your first legitimate movie where people besides your friends and family are depending on you not to screw up big time and you just searched Amazon for books on filmmaking and you need a no-nonsense step by step guide to help you through the behind the scenes process, this is the book for you!
I work with a comedy group in California, and we recently shot our first budgeted short film. As I am the most organized member of the group I was appointed the "Line Producer" and put in charge of making the whole thing come together on the back end. Coming from a theatre background, I knew what went into putting a stage performance together, but I was in the dark when it came to preparing for a film. After scouring Amazon (and a few other sites) this book seemed the most adequate to help me prepare for my job.
I've worked in film before, so a lot of the books I looked at about making a movie spend 2/3 of their volume explaining the difference between DV and Film and what a DP does, but I needed something that cut through that introductory fat, and would help prepare me for pre-production and detail exactly what went into pulling a film together.
This book is that book. It was my bible. It was glued to my side like Biff's Sports Almanac in Back to the Future 2.
Mr. Brown walks you through everything that goes into "making it happen." From breaking down the script into a functional shooting schedule to preparing an accurate budget to determining how far behind schedule you are to making sure there is a place for people to go to the bathroom, it's all in there. Additionally, the book even helped me to prepare for a lot of the basic legal and proprietary issues that we would encounter.
Brown also peppers the book with great anecdotes that help you avoid the pitfalls and roadblocks that he himself has encountered on large feature films like The Goonies. Yeah, The Goonies, you can't mess with someone who worked on The Goonies.
This book is essential. Bottom line. Read it. Love it. Use it.
Make well prepared movies.
Be a hero for your production.
Justin Lamb of San Francisco, California
Low budget film production is a chicken and egg scenario. For the production to be successful you need experience to avoid potentially costly mistakes. If you have that sort of experience already, you are unlikely to be making low budget films at all. If you want to go the low budget route, how do you get the experience you need to make a success of it?
The sensible and constructive answer to all these things is to get your hands on a copy of this book, Planning the Low Budget Film. It will cost you $29.95 which is excellent value and it is a good guide. Seriously good.
Robert Latham Brown who penned it, is known as Bob Brown in the business. Mel Brooks calls him "Mr On-Budget." Bob Brown has had 30 years in the movie business and accumulated a lifetime of knowledge and hands-on practical experience, on location.
His credits include producer, line producer, production manager and 2nd unit director. His films include Indiana Jones and the Temple of Doom and Return of the Jedi at the top end to The Anarchist's Cookbook at the $2m end of indie production and he has for the last ten years also taught film production at university level, which makes him a tutor of distinction. He can not only do it, but he really knows how to teach others to do it.
The text divides into three sections; The Basics, The Schedule, The Budget, followed by an appendix of very useful information and sources as well as a complete budget.
The essential detail within these sections is the practical stuff anyone in production needs to have a firm grasp of. Filmmaking has evolved slowly to where it is today and it has evolved this way because only practices that work well have survived. It is not clever to re-invent the wheel, so following Bob Brown's layout of film production method is probably the best exposure to the process you can get without being in a studio or on location to get it.
Brown not only feeds you the hows of everything, he gives you the whys as well. Many of the anecdotes he uses to explain these forwhys are amusing now, though were not at the time, but the funny stories will help to pin them in the memory. As permanent fixtures in a production board.
That reminds me of another important tool in the book. Before film scheduling software and film budgeting software was developed, people used the production board to schedule and budget their movies. Brown likes to use a production board and without the distractions of computer technology, it is still the best possible way to plan a production. The difference is that it is YOU who works the production board, not a piece of software, so you become much more aware of what you are doing with your production planning and what the implications of any changes you make are going to be. It is going back to the drawing board to some extent, but this is a fallback position that still works efficiently without a megabit in sight.
Brown's text is clearly laid out in sections and handy-size learning chunks and it is very readable. There are a few line drawings, topsheets and day-out-of-days tables to provide clarity where examples are needed, but this is a book for intelligent minds that are addressing a steep learning curve, so there are no distractions, just essential knowledge.
Bob "Mr On-Budget" Brown is a moviemaking mentor of distinction. No one can guarantee success with any movie, but armed with Bob Brown's formidable 30-year accumulated knowledge and insight is the best possible insurance against failure in production at any budget level. This is THE guide to budgeting and scheduling a low budget film. Even before securing the rights, secure this book.
Chalk Hill Books is represented to the trade by:
Independent Publishers Group
814 North Franklin Street
Chicago, IL 60610 USA